Departments
eBook now Available!
Exclusive - THE book on Traditional & Classic Siamese cats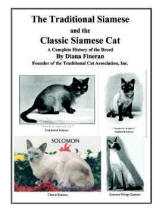 Written by the Founder of TCA, Inc.
---
---
Tullycrine
Affordable
Web Design
---

ASIAN LEOPARD CAT ANCESTRY IS THE
BASIC CRITERION WHICH, MAKES
THE BENGAL BREED UNIQUE ©
By Karin Donoyan
The approximately 10 subspecies of leopard cats all have identical markings. They do, however, occur in a variety of colors and patterns ranging from beige or gray to medium brown undercoats with light brown to black spots and rosettes.
Bengal cats are the result of the cross between a leopard cat (Asian Leopard Cat, ALC) and a domestic cat, usually Egyptian Mau or domestic shorthair, and generations of their offspring. Bengals are strong, intelligent cats who form strong bonds with their owners. They eat regular cat food and use the litter box, just like other domestic breeds. Bengals are medium size and muscular, weighing between 8 to 16 pounds at maturity.
Some of the Bengal colors and patterns are as follows: Brown spotted tabby includes leopard spotted (black or dark brown spots and rosettes on beige, tan, or reddish background), sorrel spotted (light brown spots or rosettes on light beige or tan background), and charcoal on gray. Classic brown tabby includes black marble pattern and sorrel marble pattern on lighter background in two or more colors. Seal-lynx point includes blue-eyed snow leopards and snow marbles with medium gray or brown pattern on off-white background. Silver spotted or Pearly white snows are black spotted on light silver or gray background, currently being developed. There are still some other color combinations not mentioned here.
Regardless of colors and patterns, all Bengals should display the same conformation which is reminiscent of their ancestor, the Asian Leopard Cat.