Departments
eBook now Available!
Exclusive - THE book on Traditional & Classic Siamese cats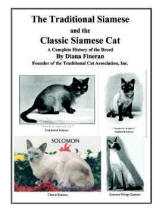 Written by the Founder of TCA, Inc.
---
---
Tullycrine
Affordable
Web Design
---
TRADITIONAL AMERICAN CURL©® FAQs
HISTORY - PERSONALITY - HEALTH
Copyright © Trademark ® Diana Fineran, January 2, 2007
---
HISTORY
This breed possesses wonderfully adorned, curled back ears in a graceful arc along with an alert, perky, exuberant, happily surprised expression. Always people focused, faithful, affectionate soul mates, they adjust well to other pets, children, and new situations.
Dog like in their attentiveness to their owner, by following them around, interested in everything. Curiosity and intelligence is presented through little trill like cooing sounds, though they are not overly talkative. Teasingly, they are referred to as the "Peter Pan" of cats because of their retention of kitten like behaviors. Their carriage is one of over all sophistication, stylish elegance and dynamic presence. This naturally occurring breed is always noticed. They come in both long and short hair varieties.
Most interesting about the breed is their ears, which are straight when they are born. In about 2 to 7 days the ears start to curl back, staying in a tight rosebud type position for the first 6 weeks, unfurling gradually until permanently fixed in place at around 16 weeks. There is variance in the ear curl, determining whether the kitten is pet or show quality. Ideally the ear should have a 90 to 180 degree arc, resembling a graceful shell like curvature
It was a chance meeting, prompted by the necessity of hunger, on a hot June, day in 1981, when two funny eared cats came to the home of Joe and Grace Ruga (Curlniques Cattery) in Lakewood, California and begged a meal. The 6 month old kittens were skinny and appeared to be sisters. One was black with long hair and yellow eyes, later named Shulamith (a Hebrew word meaning "black but comely"). The other was black and white with semi long hair later named Panda. Needless to say they both moved in to the comforts of regular meals and love. Sadly Panda disappeared about two weeks later, perhaps because of being afraid. That left Shulamith with the Ruga's. Thus the fountain head of the Traditional American Curl breed began her legacy. Six months later she gave birth to a litter of kittens sired by the local straight eared tom, Mr. Grey. Two of the kittens had curled ears and were given to Grace Ruga's sister, Esther Brimlow of Orange, CA. One was a brown tabby female named Mercedes who had curly ears. The other was a Lynx Point female named Smog, with straight ears. Shulamith's second litter with Mr. Grey produced four kittens, two with curled ears. From this litter a Seal Point male "Curl" was given to Esther Brimlow and a second "Curl" went to a friend. Shulamith's third litter, sired by a different neighborhood tom born in February 1983, produced two curled, longhair males and one curled shorthair female. All three, plus their litter mates; a longhair, straight ear, female; a shorthair, straight ear, female, were given away to friends. Two months later, Mercedes, one of Shuylamith's first kitten gave birth to her first litter by a local shorthair, straight ear tom.
A visitor to the Brimlow home fell in love with the kittens she saw. She was Nancy Kiester, who was subsequently given the two curl kittens from Mercedes' litter. One was a brown, longhair tabby female named Princess Leah. The other was a brown shorthair tabby male named Master Luke. Later both kittens and their other were exhibited at a show in Palm Springs, CA. on October 23, 1983.This was the beginning of the breeds exposure to the public.
In 1983 selective breeding began. From 81 litters of 383 kittens, data was analyzed, to discover the breeds unique ear curling gene is called autosomal dominant "Cu", which means any cat with even one copy of the gene will show the trait. When a "Cu" positive cat mates with a "Cu" negative cat, they will produce a litter of one hald Curls and one half non-Curls – one out of very two kittens is a Curl. Only kittens with the curled ears inherit the dominant "Cu" gene. A cat with one copy of a gene is called heterozygous. In heterozygous Curl to Curl breeding, three out of every four kittens will inherit the "Cu" gene. A cat with two copies of the gene is called homozygous. These cats are highly prized because they always father or give birth to "Cu" positive kittens. Double genes ensure the trait is passed on to each and every kiteen. The research was accomplished by Feline Geneticists Solveig Pflueger and, Roy Robinson of London, England. In the December 1989 Journal of Heredity, Mr. Robinson reported finding no defects in any of the crosses he analyzed, providing the pathway to a new, healthy breed. They are originated from a domestic cat with an unusual mutation.
In January 1984 the first "Curl" to "Curl" breeding resulted in kittens, born in March. One of them, a black and white male, named Playit By Ear, was the first known homozygous Traditional American Curl, proving predictable progeny. Essentially that meant all of his kittens would have curled ears, whether bred to curled or straight eared females. However, breeding a Traditional American Curl to a non-pedigreed domestic shorthair will produce at least 50% or more curled ear kittens.
Much like the human ear, the cartilage in their ears is firm from the base up to the remaining 1/3 of the tip, which is flexible. Their ears can be moved about, cocked forward, swiveled, perked and twitched back to accent their mood and expression.
Both long hair and short hair coat lengths are accepted. In Shulamith's third litter a short haired kitten was produced, even though she was a long haired cat. Pointed kittens were produced in Shulamith's first litter, so the breed comes in all colors with or with out white, included pointed patterns.
PERSONALITY
The Traditional American Curl has an outstanding temperament, possessing charm and intelligence that earns affection and fans. Happily retaining a playful attitude into their adult years, they enjoy life with good humor a social nature and with an interest in new things. They love to be involved with what is going on in their household.
An "under covers" cat, the Traditional American Curl will greet you in the morning with nose kisses, eyelid pats and hair licking, after immerging from your blankets.
Loving head buts and paw pattings are common from them. Usually quiet vocally, unless they really want something, they communicate with soft thrills, chirps and meows.
Since they adjust quickly to other cats, dogs, and children, they are a wonderful addition to your home and fur family.
HEALTH
Since there is a minimal under coat. The Traditional American Curl sheds little and requires hardly any grooming.
The Feline Geneticist, Roy Robinson of London, England did research and found the breeds unique ear curling gene is autosomal dominant, which means that any cat with even one copy of the gene will show the trait. In the December 1989 Journal of Heredity, Mr. Robinson reported finding no defects in any of the crosses he analyzed, providing the pathway to a new, healthy breed. To ensure a large gene pool with optimum health in the breed the only out crosses allowed are to non-pedigreed, domestic cats who closely resemble the Traditional American Curl Breed Standard.
They are reported to be remarkably free of the genetic defects afflicting other breeds. Generally they are very hardy and less susceptible to kitten diseases and shot reactions.
Since there is a minimal undercoat, the Traditional American Curl sheds little and requires hardly any grooming.