Departments
eBook now Available!
Exclusive - THE book on Traditional & Classic Siamese cats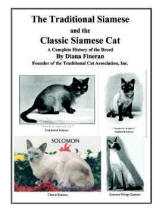 Written by the Founder of TCA, Inc.
---
---
Tullycrine
Affordable
Web Design
---
THE TRADITIONAL COLORPOINT LONGHAIR©® SIAMESE AND THE CLASSIC COLORPOINT LONGHAIR©® SIAMESE CAT (AKA:Balinese) FAQs
Traditional and Classic Longhair Siamese (Balinese) and Colorpoint Longhair Siamese (Balinese) Breeders
Pictures Courtesy of Cann-Dee-Apple Cattery
Q: How do they differ from the Traditional Longhair©® Siamese (Balinese) and the Classic Longhair©® Siamese (Balinese)?
A: The main difference is in color. Genetically they are a "cross" between a "Siamese" and a non-pointed cat to produce a delightfull rainbow of color points. Everything else is exactly the same.
Q: What colors are accepted?
A: They come in: Red Point, Cream Point, Cinnamon Point, Fawn Point, Seal Lynx Point, Chocolate Lynx Point, Blue Lynx Point, Lilac Lynx Point, Red Lynx Point, Cream Lynx Point, Cinnamon Lynx Point, Fawn Lynx Point, Seal Torbie Point, Chocolate Torbie Point, Blue Torbie Point, Lilac Torbie Point, Red Torbie Point, Cream Torbie Point, Cinnamon Torbie Point, Fawn Torbie Point, Seal Tortie Point, Chocolate Tortie Point, Blue Tortie Point, Lilac Tortie Point, Red Tortie Point, Cream Tortie Point, Cinnamon Tortie Point, Fawn Tortie Point, Seal Point, Chocolate Point, Blue Point, Lilac Point,
Yes! They do come in solid colored points. However, due to the genetic base, which used crosses of none pointed cats from different breeds, the solid colored points are still registered as "Colorpoints" not as pure "Longhair Siamese (Balinese)".
Last Updated: 02/07/23