Departments
eBook now Available!
Exclusive - THE book on Traditional & Classic Siamese cats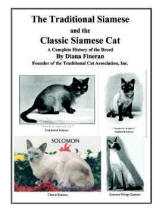 Written by the Founder of TCA, Inc.
---
---
Tullycrine
Affordable
Web Design
---

THE TRADITIONAL EXOTIC SHORTHAIR FAQs
Traditional Exotic Shorthair Breeders
Photos Courtesy of
Diana of Katallaso
(Click to Enlarge)

Q: What is the History of the TRADITIONAL EXOTIC SHORTHAIR (DOLL FACE)
A: This breed is the result of crossing the Persian with short hair breeds, therefore it is a man made breed. Like our Traditional Persian (Doll Face) in every way, its only difference is that it has a short, thick, plush, dense coat. This coat is unique to the breed, giving it a soft, rounded, teddy bear look. They require far less grooming than the Persian and their coat will not mat or tangle. Since there has been more and more Persian blood being added over the years, their personality is Persian like.
Photos Courtesy of
Diana of Katallaso
(Click to Enlarge)
Their disposition is extremely affectionate, sweet, peaceful, quiet, easy going and loyal. In a non-intrusive way they simply sit and stare irresistibly at you for affection. Even though they will follow you from room to room just to be close, they do give privacy without constantly demanding attention. They are just a playful as any other cat. They do mature later than other breeds, so neutering as a pet, eliminates any possible spraying problem. They easily fit into any home at any age, as a playful, adorable, clean addition.