Departments
eBook now Available!
Exclusive - THE book on Traditional & Classic Siamese cats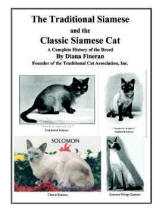 Written by the Founder of TCA, Inc.
---
---
Tullycrine
Affordable
Web Design
---
TRADITIONAL LaPERM © ®
HISTORY - PERSONALITY - HEALTH
Copyright © Trademark ® Diana Fineran, January 2, 2007
---
HISTORY
The Traditional LaPerm is the result of a spontaneous mutation that occurred in a litter of Traditional American Shorthair, barn cats in 1982. Their original home was a farm in Oregon located near the ancient hunting and fishing grounds of the Wishram Indians. One of the kittens, from that litter of six, was born completely without hair, which was completely unlike her mother or any of her siblings. A classic Tabby pattern was mimicked in a sort of blue print pattern on her skin. She began to grow very soft, curly hair within eight weeks. Named, Curly, by three to four months, the kitten had a full coat of curly hair.
Originally the farms owner just accepted the unique kitten and didn't think any more about it. Over the next 10 years in random breed litters from free roaming parents the frequency of bald kittens increased. Eventually the farm owner sought genetic advice, began to confine the special cats and control the breedings. It was revealed the curly gene was dominant and carried by both males and females. The breed was given its name and entered in a cat show to receive much interest and excitement.
The coat varies from wavy to ringlet curls to tight ringlets or long cork screw curls.
At birth most kittens have short wavy or straight hair. Then, beginning with a bald spot on the top of their heads, the kittens go through varying stages of baldness during their first four months or so. Usually the coat comes back and will be curly, if the kitten was born curly. There is the possibility of a molt that leaves a sparse, thin coat for life, to a full coat after being altered. The come in both short and long hair varieties.
PERSONALITY
Considerable love and affection will be showered upon their owners by the gentle yet very active Traditional LaPerm. Different from extremely active breeds, the Traditional LaPerm is equally content being a lap sitter, purring as soon as they are aware of the owner's presence. Seeking human contact, inquisitive by nature, they always want to know what is going on around them. For receptive owners they will reach for your face with their paws, then rub their face against your face and neck. They can be taught to fetch too.
It is the soft curly coat, the unusual appearance and the winning ways of the Traditional LaPerm that wins the hearts of cat lovers. They are irresistible for sure!
HEALTH
Coming from strong, free roaming, not inbreed barn cats, they are a healthy breed.