Departments
eBook now Available!
Exclusive - THE book on Traditional & Classic Siamese cats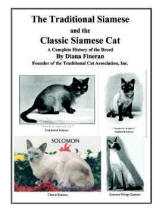 Written by the Founder of TCA, Inc.
---
---
Tullycrine
Affordable
Web Design
---
TRADITIONAL RAGAMUFFIN © CAT FAQs
HISTORY - PERSONALITY - HEALTH
Copyright © Diana Fineran, December 2, 2006
HISTORY

The Traditional RagaMuffin is a derivative of the Traditional Ragdoll, retaining a few patterns and colors. It is known the original cats were not color points with blue eyes. They came from a variety of patterns and colors. Creating a wonderful pet with companionable personality and temperament was the main priority over coat color in the beginning. A pointed coat pattern was introduced, as an addition, much later in the breeding program, but not a replacement. Today the original non-color points are considered as valuable and worthy of promoting and preserving as the pointed cats.
PERSONALIT
Y
An overall sweetness of character, along with a docile nature and a people loving, cuddly, affectionate attitude is to be expected. They are frequently called a huggable, teddy bear cat.
HEALTH
The Traditional RagaMuffin is a robust, healthy cat.