Departments
eBook now Available!
Exclusive - THE book on Traditional & Classic Siamese cats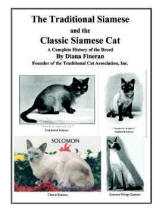 Written by the Founder of TCA, Inc.
---
---
Tullycrine
Affordable
Web Design
---
YORK CHOCOLATE CAT BREED FAQs
TCA, Inc. BREEDERS OF THE YORK CHOCOLATE CAT
About York Chocolate ©
Copyright, International York Chocolate Federation 2002
The York Chocolate was officially accepted as a Championship Breed by Cat Fanciers Federation in March of 1991, by IPCBA in May of 2002, by WCF in August of 2002 and is currently registered as 'NBC', New Breed or Color with the American Cat Fanciers Association, Named 'York' for their state of origin and 'Chocolate' for their color, these cats are a uniquely beautiful addition to the cat world. The York Chocolate is a naturally occurring long-haired breed. The first kitten 'Brownie' was born in 1983 on Janet Chiefari's farm in Grafton, New York. The dam was a black and white bicolor. The sire was a solid black. Both are long-haired domestics. In 1985, Brownie mated with a half-brother, and they produced two chocolate kittens. A dilute of the chocolate, called lavender, first appeared in 1990 and is best described as a rich, warm cocoa color. The York Chocolates come in four color types--solid chocolate, solid lavender, chocolate and white bicolor and lavender and white bicolor. Kittens are generally born a cocoa or lighter chocolate color and their coats darken as they mature, peak color usually being reached around 12-18 months of age.
Generally, the adult female York Chocolate weighs between 6-10 pounds and the adult male weighs 10-15 pounds. The York Chocolate fur is silky soft to the touch and the coat requires little or no grooming, and shedding is minima. Quite a number of York Chocolate owners with allergies have remarked that they are able to live comfortably with their cats, perhaps because their fur has little dander and they have no undercoat.
The York Chocolate is a bright, intelligent cat and temperament is a definite plus! They love their owners passionately. Energetic and playful, they are full of fun: mellow and easy going, they are full of love!!! Blacky of Upon the Rock Cattery (CFF) and /Black One of Upon the Rock Cattery (ACFA), born 4/26/81, was owned by Janet Chiefari from Cropseyville, New York, from the age of six weeks until she died of a mammary tumor on July 12, 1990. She was a domestic long-hair, black and white bi-color. Her eyes were gold. She mated with a neighbor's solid black domestic named Smokey Morris (CFF) Mokey (ACFA) Smokey's fur was medium length and his eyes were hazel. They produced Upon the Rock Brownie, A female brown and white bicolor kitten, born on July 3, 1983. Brownie had greed eyes.
Through the years Blacky had several litters, most of the kittens had long hair and many of them had blue eyes. She had black kittens, bi-colored black and whites, gray tabby, gray tabby and white bi-colors, and tortoiseshell. She did not have another brown kitten until mated with a York Chocolate- Upon the Rock Teddy Bear. Then she had one solid brown, one brown and white bicolor (Upon the Rock Pepi Patty), and a solid black, born on March 3, 1990.
Upon the Rock Brownie mated with a solid black, long-haired half-brother (Dam Blacky, sire unknown), and produced a solid brown male-Upon the Rock Teddy Bear, and a brown and white bi-colored female.-Upon the Rock Cocoa, born on June 5, 1985. They were both long-haired. Teddy had green eyes, and Cocoa's were hazel.
Brownie mated with Teddy Bear and produced five kittens December 31,1988-two solid brown female, one solid brown male., one brown and white bi-colored female, and one brown and white bi-colored male. These eleven chocolate brown cats were the beginning of the York Chocolate Breed. It was so named because the Originator Janet D. Chiefari lived in New York.
The first York Chocolate-"Brownie"- was born on Janet Chiefari's farm in 1983 to a domestic black and white long-hair, Blacky. The father was a neighbor's black domestic. Both cats had Siamese in their background.
Brownie mated with a half-brother; black long-haired, in 1985 and produced two chocolate kittens. Janet worked down for four generations since then, from these original cats, Chocolate with chocolate matings have yielded 100 per cent chocolate kittens. There are now around 60 cats in existence.